For LEED Consultancy, Green Building Design, Green Homes, Green Factory Buildings, Green SEZs, Green Townships,
By RANDY KREIDER and LINDSAY LAMONT, http://www.blogger.com / Aug. 1, 2011.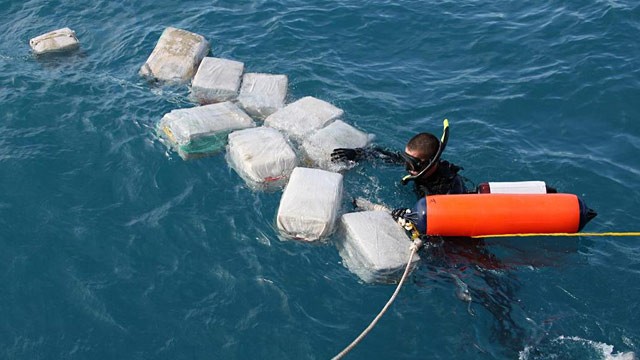 The U.S. Coast Guard says its crews helped stop a submarine-like craft filled with $180 million of cocaine in the western Caribbean. Here a diver is shown recovering bales of cocaine in the water.
The Coast Guard caught a narco submarine trying to smuggle $180 million worth of cocaine into the U.S., intercepting the drug vessel as her own crew tried to sink her off the coast of Honduras.
Coast Guard video shows the crew of the semi-submersible craft jumping off the boat and into a yellow life raft. As a Coast Guard boat comes alongside, the submarine can be seen quickly sinking into the Caribbean.
WATCH video of the Coast Guard intercepting the drug submarine.
"It was immediately obvious to our boarding crew that the SPSS [self-propelled semi submersible vessel] was taking on water and was being scuttled by its crew," said Cmdr. Charles Fosse, commander of the Coast Guard cutter Seneca. "We recovered two packages and the SPSS sank seconds after that."
An FBI dive team later recovered 7.5 tons of cocaine from the boat. The interdiction was the first in the Western Caribbean; according to the Coast Guard, submarines are regularly used to move contraband in the Eastern Pacific.
According to the Coast Guard, the typical SPSS or narco submarine is less than 100 feet long, carries four to five crew members and up to 10 tons of cocaine. The vessels, which are often built in jungle areas of Colombia controlled by the guerilla group FARC, can travel up to 5,000 miles.