For LEED
Consultancy
/ IGBC
Certifications
, Green Building
Design
, Green Homes, Green Factory Buildings, Green SEZs, Green Townships
&
Energy Audits
-
www.greentekindika.com
Sidhartha Pandey, Updated: August 30, 2011 16:35 IST.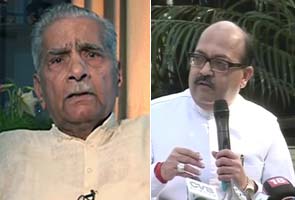 New Delhi
:

The Delhi Police has said that a controversial CD of purported conversations between lawyer-activist Shanti Bhushan and politicians Amar Singh and Mulayam Singh Yadav was not doctored.
The CD was sent anonymously to media offices in April, this year. The CD allegedly has Mr Bhushan in conversation with Samajwadi Party leader Mulayam Singh and Amar Singh. A voice that resembles Mr Bhushan's states that a judge can be bribed for four crores for a desired verdict.
Mr Bhushan, and his son, Prashant, had both said the CD contained different conversations edited together to discredit them. A forensic lab in Chandigarh had said the CD was doctored; a government lab in Delhi and another in Hyderabad said it was genuine. Prashant Bhushan filed a police case alleging that the CDs were doctored.