For LEED
Consultancy

/ IGBC

Certifications

, Green Building

Design

, Green Homes, Green Factory Buildings, Green SEZs, Green Townships

&

Energy Audits

-
www.greentekindika.com
Kashish, NDTV / Updated: August 24, 2011 23:51 IST.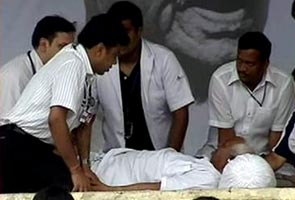 New Delhi
:

With Anna Hazare declaring this evening that he will not end his hunger strike against corruption, the Government is preparing a plan to move him to hospital, if needed. So far, his doctors say this is not required. His aides also say the police present at Anna's camp at Ramlila Maidan have promised they will not try to move him without the consent of Anna's doctors.
Anna aide Arvind Kejriwal told the supporters gathered at the Ramlila maidan, that Team Anna has reports that the Government may forcibly move Anna out of Ramlila Maidan between 3 and 4 am. However, Mr Hazare asked his supporters not to resort to violence in case such a situation arises.
74-year-old Anna is on the ninth day of his fast. Doctors attending to him last night said they were worried about his blood pressure and his vital signs. This morning, they said that because Anna had slept well, he had recovered a little.