For LEED
Consultancy

/ IGBC

Certifications

, Green Building

Design

, Green Homes, Green Factory Buildings, Green SEZs, Green Townships

&

Energy Audits

-
www.greentekindika.com
Indo-Asian News Service, Updated: August 22, 2011 12:50 IST.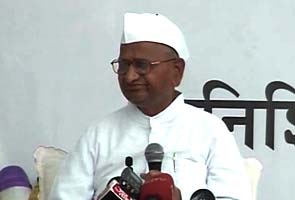 New Delhi
:

Before he makes an appearance at the Ramlila Ground every morning, Anna Hazare locks himself in a 10x10 feet makeshift room backstage and writes in meditative silence for over two hours. It is an activity he is particular about.
"Though the activist abstains from his routine yoga during fasts, writing is one thing he never compromises on," said Suresh Pathare, a Hazare confidant from Ralegan-Siddhi village in Maharashtra. Pathare first met Hazare during a rural development project in the village. He has since become his loyal aide.
His schedule during his hunger strike, which entered the seventh day on Monday, goes something like this:
The 74-year-old wakes up at 6.30 am in a room hidden behind the grand stage. He takes about an hour to get ready. Shaving is a must, "a habit from his military days", says Pathare, who has been with Hazare for about 10 years.
An hour later, he gets down to writing. "(Anna writes) about little things, humanity, rights... He puts on paper a lot of internal thoughts," says Pathare. "Even in Tihar (Jail), he used to write a lot. In jail he used to read newspapers and watch news on TV, but here he just writes," adds Pathare.
"In the village, he sometimes doesn't come out of his house for days. No one has the guts to knock on his door... If someone has to bring him food, he'll keep it outside and leave. No one can dare to disturb him," says Pathare.
It is only at around 10 am that Hazare appears before the waiting crowd, which bursts into a prolonged applause on seeing the former soldier who ferried supplies to the frontlines in the Indian Army. He stays on the stage till 9 pm, sometimes sitting in an upright posture and sometimes taking help of the bolster to give his body some stretch.
The gathering keeps a steady chant of slogans hailing him. He faintly smiles. It is only occasionally that he picks up a mike and addresses the crowds. A portable toilet is placed next to his makeshift room. Doctors check him every three hours. At around 10 pm, the activist calls it a day and retires to his room.
"Anna likes to sleep at the venue when he's fasting," says Pathare, who has been with Hazare during all his last 10 fasts in the past decade.