For LEED
Consultancy

/ IGBC

Certifications

, Green Building

Design

, Green Homes, Green Factory Buildings, Green SEZs, Green Townships

&

Energy Audits

-
www.greentekindika.com
NDTV Correspondent, Updated: August 27, 2011 17:20 IST.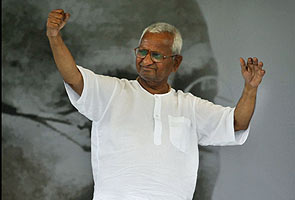 New Delhi
:

To ensure that Anna Hazare ends hunger strike today, the government has agreed that the debate on the anti-corruption Lokpal Bill will be followed with a resolution and a vote.

Anna, 74, has not eaten in 12 days; his doctors say they're seriously worried now about his health.
The resolution that has now been agreed to will convey the House's acceptance, in principle, of the three demands that Anna has listed as a pre-condition to ending his fast.
The decision came after the Prime Minister met with senior ministers and Opposition leaders LK Advani and Sushma Swaraj to discuss the unexpected speed-breaker which popped up this afternoon.
Anna's associates, who arrived at parliament while the Lokpal debate was underway, said they were also told that instead of a resolution, parliament would issue a statement to convey "the sense of the House."
"If no resolution will take place or no voting will happen and if this is the response given to Anna Hazare's letter then it is very unfortunate," said Anna's aide, Prashant Bhushan.

"It is a clear case of betrayal," said another member of Anna's inner circle, Arvind Kejriwal,
Call of the commons: People vs corruption : report of a CSE media task force to Ralegan Siddhi
Anna Hazare: The Face Of India's Fight Against Corruption