For

US-LEED, LEED India, IGBC Green Homes, Green Factory Buildings, Green SEZs, and Green Townships

:

www.greentekindika.com
Have you read, "
Mayhem of the Miserables
!
" available @ US$ 1/- with
the Smashwords Summer/Winter promotion, ending July 31, 2011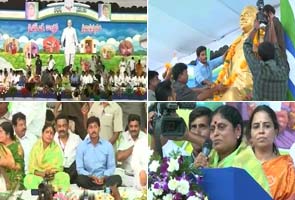 Hyderabad: On his famous father's birth anniversary, Jagan Mohan Reddy managed once again to prove to his former party, the Congress, that he will not be ignored as a political force in Andhra Pradesh.

A dozen Congress MLAs and two of its MPs attended a function organised in Kadapa by Mr Reddy today, the first plenary of the YSR Congress, the party he launched recently that is named after YSR Reddy, one of the state's most-popular leaders.

The Congressmen were also seen taking an oath that they would abide the policies and programmes of the YSR Congress.