FOR LIGHTER READING, Download your free copy of "
My First Beer
" Now
with
the Smashwords Summer/Winter promotion, ending July 31, 2011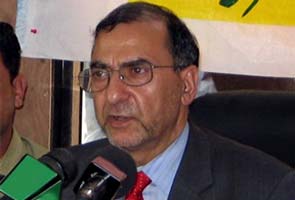 Virginia: Ghulam Nabi Fai, alleged to be an ISI agent and charged with trying to influence the policy of White House and Congress on Kashmir, raised his hand in jubilation after the judge announced that he would be released on bail.
He then stood there, for a tad longer than necessary, soaking up the moment and eventually had to be taken out of the room by the security officials. His wife did not even wait to step out of the courtroom before she broke out into a triumphant cheer.
"Dinner is on me. I thank you for your duty. Justice will be done and we hope one day justice will be done for the people of Kashmir," said Chang Ning Ying Q, wife of Ghulam Nabi Fai.
It seems the Fai family is not seeing his arrest and pending trial as a setback and are determined to use these developments to internationalise the issue of Kashmir here in the US.
"I just want to thank god today. Thank you," wife of Mr Fai told NDTV.
As the prosecution and the defence argued it out about whether Mr Fai should be released on bail or not, the FBI officer in charge of this case took the stand. She testified that 80 per cent of Mr Fai's statements come from the ISI and he repeats them verbatim. The prosecutor then told the judge that Mr Fai should not be released because he was an agent of the ISI and that the ISI would look out for one of their guys. With the ISI having similar facilities in the UK and Brussels, Mr Fai would be a flight risk, added the prosecutor.
However, in the end, the judge decided that Mr Fai should be released on bail but under some strict conditions.