For

US-LEED, LEED India, IGBC Green Homes, Green Factory Buildings, Green SEZs, and Green Townships

:

www.greentekindika.com
Have you read, "
Mayhem of the Miserables
!
" available @ US$ 1/- with
the Smashwords Summer/Winter promotion, ending July 31, 2011
NDTV Correspondent, Updated: July 08, 2011 15:19 IST.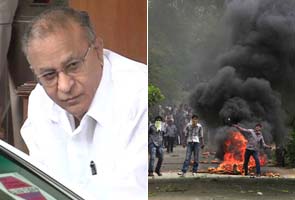 New Delhi: Union Minister Jaipal Reddy has met the Prime Minister to discuss the Telangana crisis which has struck the Congress with considerable force.

Mr Reddy is from Andhra Pradesh's Chelvella constituency. Sources say that he urged Dr Manmohan Singh to sanction a Telangana state.

Close to 100 MLAs from Telangana have resigned - nearly half of them from the Congress - to demand a new state be carved out for their homeland. At least 10 MPs have also sent their resignations to the Lok Sabha Speaker Meira Kumar.