www.greentekindika.com
FOR LIGHT READING, Download your free copy of "
My First Beer
" Now
with
the Smashwords Summer/Winter promotion, ending July 31, 2011
Uma Sudhir, NDTV / Updated: July 21, 2011 16:10 IST.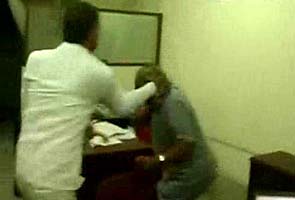 New Delhi: Senior leaders of the TRS party kicked down doors at Andhra Pradesh Bahwan in Delhi today before they hit a man inside.

They said they were protesting against "the lack of respect" shown for the dead body of a man from Telangana who committed suicide in Delhi yesterday.

Among those at the centre of today's assault were Harish Rao and K T Rao, whose father, K Chandrasekhar Rao heads their party, the Telangana Rashtriya Samiti (TRS), and has fronted the campaign for a new state of Telangana.
It is advisable that public personalities shoudn't lose their temper and get to physical violence - irrespective of the gravity of provocation!
Of all venting such rage on junior ranking employees, who just take orders from their higher-ups, is not a good practice!!
TRS leaders have been consistently demonstrating their physical capabilities, in full public view, under cameras, which practice doesn't fetch them any better good will!!!