FOR LIGHT READING, Download your free copy of "
My First Beer
" Now
with
the Smashwords Summer/Winter promotion, ending July 31, 2011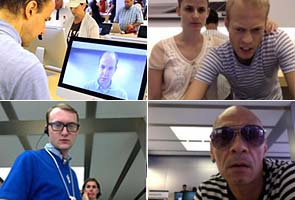 For three days last month, an artist named Kyle McDonald secretly programmed computers at two Apple stores in Lower Manhattan to shoot a webcam picture every minute. As people squinted, frowned, glared, grinned, grimaced, snarled and other ways looked at the screens, their pictures were snapped, silently. Then the photos were automatically sent to Mr McDonald's server.

Having collected 1,000 pictures, Mr McDonald, 25, created another little program and returned to the two stores, one on 14th Street and the other on Prince Street. This time, after a picture was taken, it was immediately put into an array of older photos that would begin running across the screens.

Suddenly, people sitting at the computers were looking at pictures of themselves that dissolved into photos of others who also had gazed into the screens.

---------------------------------------------------------
Apple, however, was not amused.

On July 7, two days after Mr McDonald posted his project on the Web, he was awoken by Secret Service agents at his home in Brooklyn. They had a warrant to search for evidence that he violated the federal Computer Fraud and Abuse Act, and they left with his laptop.