FOR SUNDAY LIGHT READING, Download your free copy of "
My First Beer
" Now
with
the Smashwords Summer/Winter promotion, ending July 31, 2011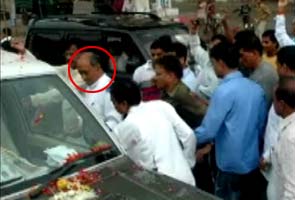 Shajapur, MP: Jayant Aggarwal is unlikely to forget his encounter with senior Congress leader Digvijaya Singh. "He got down from his vehicle, walked towards us and then he slapped me", claims Mr Aggarwal, who lives in Ujjain in Madhya Pradesh.

Mr Aggarwal was among the BJP activists who heckled Digvijaya Singh when the Congress leader visited Ujjain over the weekend. Mr Singh said that he does not rule out the possibility of the BJP's parent body, the Rashtriya Swayamsewak Sangh (RSS) being involved in last week's serial blasts in Mumbai.

Newspaper reports said that Mr Singh was unrepentant after slapping the BJP's youth workers who protested against him. "I am not weak", he is quoted as saying.
In one of his Telly Interviews, he has claimed he started his political career with street fights and now he proves it!