FOR LIGHTER READING, Download your free copy of "
My First Beer
" Now
with
the Smashwords Summer/Winter promotion, ending July 31, 2011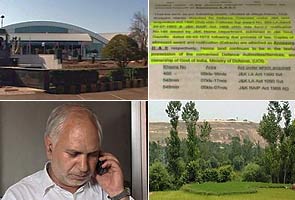 Srinagar: Shocking as it may sound, India's most security-sensitive airfield the Srinagar Air Force Station and International Airport has been on sale for four years, and till recently nobody knew about it!

NDTV has exclusive documents that show bit by bit more than 100 acres of the 2,300-acre airfield has been sold to private players by land sharks who bribed their way through the Defence Estates Office and the government's Revenue Department.

These corrupt officials cleared sale agreements in such a zone that could easily fall prey to cross-border terror; selling off pieces of an area, ironically, we are not even allowed to enter.

A R Hanjura, a lawyer, bought 1.5 acres of this land in Naaru Village in 2008. He bought it from Mrs. Fazi, who claimed to be the previous landlord, and had the papers to show for it.

Mr Hanjura says these were Revenue Department records that confirmed the land was still in Mrs Fazi's name, even though the area was being used by the Defence.

Mr Hanjura was told once the plot is his he could claim rent from the Defence.

The sale was cleared by the Defence Estates Office in Srinagar, whose permission was mandatory, since the plot fell in an area under its use.
I wouldn't be surprised if one these days, Taj Mahal is sold by some unscrupulous charlatan to a greedy sucker!