www.greentekindika.com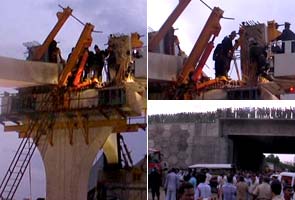 Mumbai: Two people were killed after a slab of Monorail collapsed in the suburban Chembur area in Mumbai today.

The incident occurred at around 5.30 pm - 6 pm when the girder of the monorail bridge collapsed.

Four people were also injured in the mishap. They have been admitted to Rajawadi hospital.
This kind of accidents happen when the Contractor compromises on the Construction Safety; this happened in Hyderabad & Delhi but the Owners who have fiduciary responsibility for such accidents have done free.
I doubt whether anybody has gone jail for these kind of callousness!!
After all this is "My India' where the poormen's lives are so cheap that their silence can be bought at a throw away price!!!

Full Story at,