FOR LIGHT READING, Download your free copy of "
My First Beer
" Now
with
the Smashwords Summer/Winter promotion, ending July 31, 2011
Vikram Dodd / The Guardian,Wednesday 20 July 2011.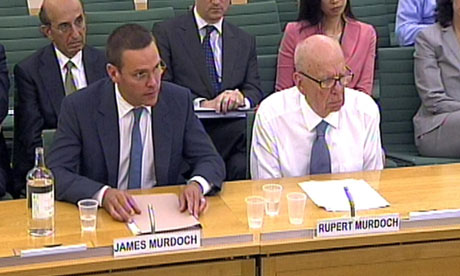 James and Rupert Murdoch testify before the culture, media and sport committee. Photograph: Press Association.
Rupert Murdoch's News International company has been found by a parliamentary committee to have "deliberately" tried to block a Scotland Yard criminal investigation into phone hacking at the News of the World.
The report from MPs on the all-party home affairs committee will be released on Wednesday morning. Its publication has been moved forward in time for a statement on the scandal by the prime minister, David Cameron.
The report's central finding comes a day after Rupert and James Murdoch testified before the culture, media and sport committee. The home affairs committee report marks an official damning judgment on News International's actions.
It finds the company "deliberately" tried to "thwart" the 2005-2006Metropolitan police investigation into phone hacking carried out by the News of the World.
The investigation came at a time when Andy Coulson was editor. Coulson went on to be chosen by Cameron to be his director of communications, before resigning.
• Police failed to examine a vast amount of material that could have identified others involved in the phone-hacking conspiracy and victims.
----------------------------------------------------------------
Full Story at,