For

US-LEED, LEED India, IGBC Green Homes, Green Factory Buildings, Green SEZs, and Green Townships

:

www.greentekindika.com
Have you read, "
Mayhem of the Miserables
!
" available @ US$ 1/- with
the Smashwords Summer/Winter promotion, ending July 31, 2011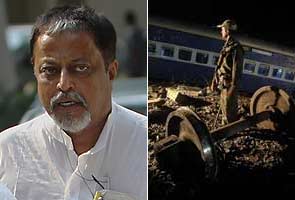 New Delhi: The Prime Minister has ordered the Minister of State for Railways, Mukul Roy, to visit the site of a major train accident in Assam. Given that more than 40 people were injured, the minister's presence would be a given, one would expect.

But this morning, Mr Roy, who is from the Trinamool Congress, told NDTV, "There is no need for me to go now." Mr Roy is expected to be inducted this week as the Union Minister for Railways. He is from Mamata Banerjee's Trinamool Congress. Ms Banerjee was Railways Minister till she was elected Chief Minister of West Bengal in May.
His refusal to follow the diktat of the PM, betrays the arrogance of the Coalition Partner of UPA as well as his insensitive towards the affected passengers!
Would he have stayed at Delhi, had the accident occurred in West Bengal?