For

US-LEED, LEED India, IGBC Green Homes, Green Factory Buildings, Green SEZs, and Green Townships

:

www.greentekindika.com
Have you read, "
Mayhem of the Miserables
!
" available @ US$ 1/- with
the Smashwords Summer/Winter promotion, ending July 31, 2011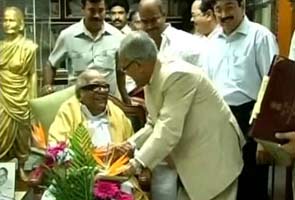 Chennai: Putting all rumours to rest that Congress-DMK alliance is on the rocks, Finance Minister and Congress' chief troubleshooter Pranab Mukherjee has said that the alliance is intact.

"There is a lot of writing and speculations whether the alliance between Congress and DMK is continuing or not. My respectful submission would be, this alliance is there, the alliance will continue and it will be strengthened," Mr Mukherjee said after meeting DMK patriarch Karunanidhi in Chennai today.

Mr Mukherjee said that he discussed the current political situation with Mr Karunanidhi.

"This is my first visit to Chennai after the general elections to the state Assembly took place. Whenever I come to Chennai, I make it a practice to call on the leader and discuss political situations prevailing at that point of time. Therefore, when I came to Chennai this time, I took the opportunity of calling on the leader, Kalaignar Karunanidhi, and discussing the current political situation prevailing in the country," he said.

The meeting comes shortly after the resignation of DMK leader Dyanidhi Maran as the Union Textiles Minister and a Cabinet reshuffle in the UPA II government. Mr Maran put in his papers a day after the CBI, investigating the 2G scam, said it had preliminary evidence against him and he is being investigated for misusing his office when he was the telecom minister.
Full Story at,
http://www.ndtv.com/article/india/congress-dmk-alliance-intact-says-pranab-mukherjee-117939