For

US-LEED, LEED India, IGBC Green Homes, Green Factory Buildings, Green SEZs, and Green Townships

:

www.greentekindika.com
Have you read, "
Mayhem of the Miserables
!
" available @ US$ 1/- with
the Smashwords Summer/Winter promotion, ending July 31, 2011
NDTV Correspondent, Updated: July 06, 2011 17:26 IST.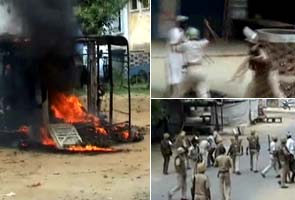 Moradabad: There have been violent clashes between villagers and police at an area known as Asaalat Nagar in Moradabad.

DIG Moradabad Ashok Kumar was injured in the clashes and rushed to the Emergency ward in Moradabad district hospital.

He has suffered a head injury due to the heavy stone pelting.

Full Story at,