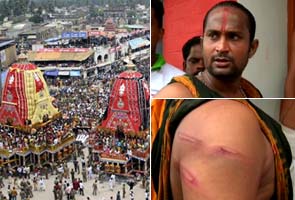 Puri:
Violence marred the Rath Yatra celebrations in Puri today after over 20
sevayats
or temple servitors were left injured in a police lathicharge following a heated exchange over the overcrowding of the chariots parked near the Gundicha temple.
The police action took place without any magisterial order.
The incident occurred during the "Abakash" ritual of Lord Jagannath as a large number of devotees climbed atop his chariot, "Nandighosh", and jostled for a glimpse of the deity, police sources said.
In a departure from the centuries-old tradition, the Jagannath temple administration had prepared a ladder made of aluminium to enable the devotees climb up the three majestic chariots and have a glimpse of the deities.
Following the incident, public
darshan
atop the three chariots came to a standstill and priests stopped the rituals briefly before the "Pahandi" of deities into Gundicha temple.