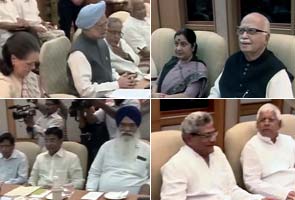 New Delhi: The making of the Lokpal Bill has seen a series of unsuccessful meetings between the government representatives and civil society members of the drafting panel. And today's meeting of all political parties at the Prime Minister's residence failed to evolve a consensus that the Government would have hoped for.

In his opening remarks, Prime Minister Manmohan Singh said that the government is committed to a Lokpal Act which provides for strong, effective, quick institutional arrangement for tackling corruption in high places.

"Good law and strong institution is necessary to tackle corruption but these alone would never suffice. Lokpal has to work in harmony with other institutions and laws; it has to function within the framework of basic structure of Constitution," said Dr Singh.(Read: PM's opening remarks at the all-party meet)

Opposition parties put the ball back in the Government's court, urging it to bring an official draft, which can then be discussed.

Leader of the Opposition in the Lok Sabha, BJP's Sushma Swaraj said, "We did not discuss specific provisions of the bill in today's meeting. We clearly said we want a strong Lokpal. The government should bring a bill and send it to the standing committee so that all the parties can give their points of view." (Watch)

A joint resolution at the end of the meeting said, " The All Party Meeting agreed that Government should bring before the next session of Parliament a strong and effective Lokpal Bill following the established procedures."

Opposition parties slam Team Anna.........................
PM in Lokpal? Opposition Divided...........................
Yep, can't expect any better results; hope they all have enjoyed their Chai-Bisoots!