FOR LIGHT READING, Download your free copy of "
My First Beer
" Now
with
the Smashwords Summer/Winter promotion, ending July 31, 2011
Ewen MacAskill in Washington / The Guardian,Tuesday 19 July 2011.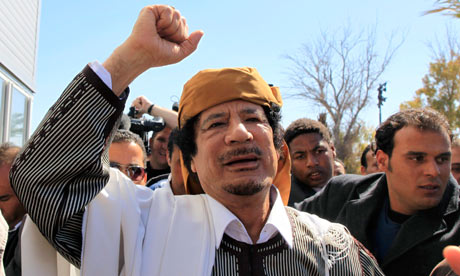 Libyan officials have been told that Muammar Gaddafi must step down in face-to-face talks held in Tunisia. Photograph: Ahmed Jadallah/Reuters.
Officials confirm talks lasting three hours took place in Tunisia – but Washington and Tripoli disagreed on what comes next.
The US and Libya on Saturday held their first face-to-face talks since the conflict in Libya began four months ago, officials from both governments have confirmed.
But the two sides disagreed about what was discussed – and what happens next.
The three-hour talks were held on neutral ground in Tunisia.
A US state department official said Washington agreed to the meeting, after several requests from Tripoli, in order to deliver a message to the Libyan government that its leader, Muammar Gaddafi, had to step down.
It was not the start of negotiations and no further talks were planned, the official said.
But the Libyan government spokesman, Moussa Ibrahim, speaking in Tripoli, described it as a first step.
"We support any dialogue, any peace initiative, as long as they don't decide Libya's future from outside," Ibrahim told journalists in Tripoli.