www.greentekindika.com
FOR LIGHTER READING, Download your free copy of "
My First Beer
" Now
with
the Smashwords Summer/Winter promotion, ending July 31, 2011
NDTV Correspondent, Updated: July 27, 2011 17:35 IST.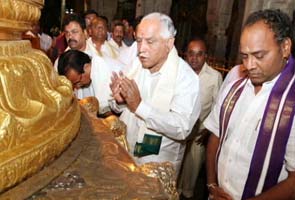 Bangalore: Two steel trunks packed with 10,000 pages could force BS Yeddyurappa to pack his bags and exit the Chief Minister's office in Karnataka.
The trunks contain a report on illegal mining prepared by Santosh Hegde, the state's Lokayukta or Ombudsman. The report directly indicts the Chief Minister and his family, refers to the powerful Reddy brothers from Bellary who are mining barons and Cabinet ministers; and says that between 2006 and 2010 the state lost Rs. 16,085 crores because of illegal mining.
The report - which was leaked last week, allegedly after Mr Hegde's phones were tapped - was presented to the Chief Secretary of the Karnataka government today.
Mr Hegde has indicted several politicians from different parties for corruption. He finds that a trust fund run by the Chief Minister's family in his home area of Shimoga received Rs. 10 crore from a mining company and "had purchased an acre of land for a consideration of 20 crores... whereas the land was not worth more than 1.25 crores." Mr Hegde described this as "an abnormal payment" and said the company that bought the land was "itself not financially stable or strong." Mr Hegde said the company borrowed money from other companies. "I find it difficult to accept that a person has to borrow money and then donate. Even the sale-purchase has a lot of discrepancies in the documents pertaining to the sale." He said the high price paid for the land "led to the conclusion on my part that these payments, either as donation or for sale consideration, have been made for reasons that are not genuine."
Mr Hegde said that he has come to the conclusion that there "is a possible offence under the Prevention of Corruption Act" and he has asked Governor HR Bhardwaj to decide what action needs to be taken now against the Chief Minister. Mr Bhardwaj has publicly and frequently clashed with the BJP government and has in the past recommended that the government be dismissed and President's Rule be introduced in Karnataka.
Mr Yeddyurappa has left for Delhi on a chartered flight to meet with senior BJP leaders to discuss the report. His party is reportedly leaning towards asking the Chief Minister to resign. In the Monsoon Session of Parliament which starts next week, the BJP plans to rev up its attack on the UPA for corruption. Keeping Mr Yeddyurappa in office would cause some serious grinding of gears.
Yeddyurappa says won't quit
-------------------------------------------------------------
The BJP dilemma
-------------------------------------------------------------