For

LEED Consultancy, Green Building Design, Green Homes, Green Factory Buildings, Green SEZs, Green Townships.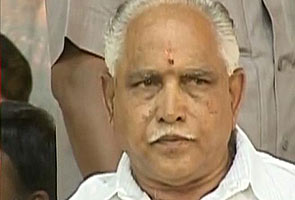 Bangalore: There is a new drama in the Yeddyurappa resignation saga which can act as a deterrent to the BJP's plans to corner the UPA government over the issue of corruption in the Monsoon Session of Parliament starting Monday.
Mr Yeddyurappa has now put forward another condition - that the BJP announces the name of his successor before he demits the office of the Karnataka Chief Minister. The BJP, on the other hand, wants him to resign before announcing the name of the new Chief Minister.
The stalemate continues as both parties have refused to blink on the matter.



Mr Yeddyurappa had, earlier this morning, sent his resignation to party president Nitin Gadkari; he is walking towards the Raj Bhawan along with his MLAs to meet Governor HR Bhardwaj. (
Watch: Rise and fall of Yeddyurappa
)
Meanwhile, Mr Yeddyurappa attended his last public function as Chief Minister today where he announced his decision to quit and said he will continue working for the party.
"My dream was to make Karnataka the best state in the country. I will not rest from that aim even for a day. I am giving my resignation today. From tomorrow I will continue to work for the party," Yeddyurappa said.
"I was an ordinary party worker. I never dreamed of becoming the Chief Minister. The affection of the people put me in this chair. I worked sincerely and I am satisfied that in the last three years, the state had developed," he added.
Mr Yeddyurappa also struck an emotional chord with the people at the felicitation function saying, "It was like my arms and legs were tied. I am going to Raj Bhawan happily now without any pain in my heart. From tomorrow I can tour the state freely."
But his decision to resign as Chief Minister of Karnataka did not come without its share of defiance. He demonstrated his grip on the BJP in Karnataka, with three bus-load of supporters who spouted on demand cheers of loyalty to Mr Yeddyurappa and travelled from his house to Bangalore's Ashoka Hotel where they submitted a memorandum to BJP senior leaders Arun Jaitley and Rajnath Singh demanding Mr
Yeddyurappa's continuance as Chief Minister. The MLAs have also demanded that Mr Yeddyurappa should be made the state party chief if he is removed as CM.

The Corrupt rule the roost whether it is in Congress, BJP, Left or in Regional Parties;
Party Bosses are themselves corrupt or under ransom to these corrupt leaders;
And that is the nemesis of Indian Economy, Growth & Moral Fabric!