For

US-LEED, LEED India, IGBC Green Homes, Green Factory Buildings, Green SEZs, and Green Townships

:

www.greentekindika.com
Have you read, "
Mayhem of the Miserables
!
" available @ US$ 1/- with
the Smashwords Summer/Winter promotion, ending July 31, 2011
NDTV Correspondent, Updated: July 11, 2011 17:30 IST.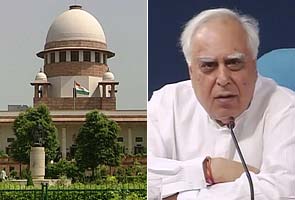 New Delhi:
The Supreme Court today refused to accept a petition against Kapil Sibal that accuses the Telecom Minister of bending the rules to favour Anil Ambani and his Reliance Communications (RCom). The court did not comment on the merits of the allegations - it has for now only said that they cannot be linked to the 2G telecom scam that is being investigated by the CBI and monitored by the Supreme Court.
A Public Interest Litigation or PIL filed by advocate Prashant Bhushan alleged that Mr Sibal arbitrarily downsized the penalty imposed upon Mr Ambani for violating the terms of a contract. The controversy lies not just in the allegations against Mr Sibal, but in his decision to use a private lawyer - Rohinton Nariman - to defend himself. That move prompted Solicitor General Gopal Subaramaniam to resign.
Mr Bhushan had sought to make this PIL a part of the larger case on the 2G telecom scam which has caused a political earthquake in India, causing the resignation of two telecom ministers, one of who is now in jail, and the arrests of some of India's senior-most executives in the telecom sector. The investigation is based on another PIL filed by Mr Bhushan.



01) He has done it again; the problem with Mr. Bhushan is that he always mixes up not so related issues into one and try to bring them all under one omnibus entity like, his friend and he tried to bring Higher Judiciary,

Bureaucracy

, Revenue Departments, etc. under 'Lok Pal', whereas it was, originally,

conceived

to act as a watch dog of the higher political officers.
02) There is, definitely, a favour done by Kapil Sibal to Anil Ambani owned R-Com, which act is an act of

benefiting

a private party at the cost of the public exchequer and thus a criminal act of corruption, on a stand alone basis;
03) If he had approached the apex Court to direct an investigation into this issue, probably, it would have acted on it, positively;
Full Story at,