www.greentekindika.com
FOR LIGHTER READING, Download your free copy of "
My First Beer
"
Now with the Smashwords Summer/Winter promotion, ending July 31, 2011
Associated Press in Miacatlan / guardian.co.uk / Wednesday 27 July 2011 09.50 BST.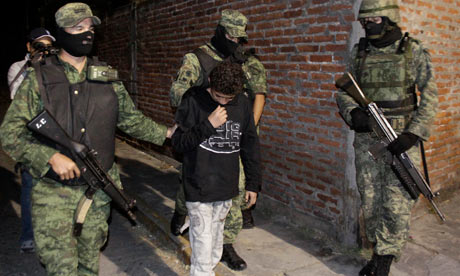 Edgar 'El Ponchis' Jimenez Lugo, a 14-year-old US citizen, was jailed for organised crime, homicide, kidnapping, and drug and weapons possession. Photo: Antonio Sierra/AP.
A Mexican judge on Tuesday sentenced a teenage US citizen to three years in prison for homicide, kidnapping and drug and weapons possession. Authorities say the 14-year-old confessed to killing four people whose beheaded bodies were found suspended from a bridge.
Edgar Jimenez Lugo, known as El Ponchis (the cloak), was given the maximum sentence allowed for a minor in the central state of Morelos, said José Manuel Serrano Falmerol, the state prosecutor.
Jimenez, 14, was tried in a state court because Mexico has no system to try minors at the federal level.
Authorities say the teenager confessed to working for the South Pacific drug cartel, led by the reputed drug baron Hector Beltrán Leyva.
When he was handed over to federal prosecutors, the boy calmly said in front of cameras that he had participated in four killings while drugged and under threat. The bodies were found in the tourist city of Cuernavaca.
In November, stories of a "hit boy", maybe as young as 12, spread after a YouTube video appeared showing boys posing for the camera next to corpses and guns. One boy on the video alleged that El Ponchis was his accomplice.
Jimenez was born in San Diego, California. He and a sister were arrested in December as they tried to board a plane to Tijuana, where they planned to cross the border and reunite with their mother in San Diego.