FOR LIGHT READING, Download your free copy of "
My First Beer
" Now
with
the Smashwords Summer/Winter promotion, ending July 31, 2011
NDTV Correspondent, Updated: July 19, 2011 16:33 IST.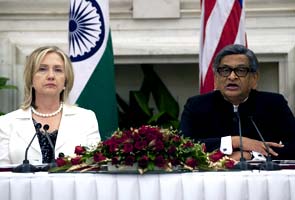 New Delhi: The recent serial blasts in Mumbai and counter-terrorism dominated the agenda this morning as Foreign Affairs Minister SM Krishna met with US Secretary of State Hillary Clinton. These talks form Round 2 of the India-US strategic partnership dialogue; the first was held two years ago.

However, both countries have major differences on the civilian nuclear deal.

Mr Krishna and Ms Clinton spoke at length about Pakistan. Ms Clinton said that America has repeatedly told Pakistan that the perpetrators of 26/11 have to be brought to justice. "We have made it forcefully clear to Pakistan that it has a special obligation to act transparently, fully and urgently." She added, "There is a limit to what the US and India can do. But we will press as hard as possible."

Mr Krishna, for his part, mentioned "the importance of elimination of terror sanctuaries in Pakistan for regional stability and Pakistan's future."

In a reference to the US raid that found and killed Osama Bin Laden in Abbottabad, Ms Clinton said, "We want mutual recognition that we cannot tolerate a safe haven for terrorists anywhere. When we know the location of terrorists whose intentions are clear, we need to work together. We do not believe there are any terrorists who should be given a safe haven or free pass by any government."

U.S. pushing Pak for 26/11 attackers and all are ritualistic pleasantries; her main objective is to dangle to Full Nuclear Cooperation and to get waiver of India's tough Nuclear Suppliers' Liability, for American suppliers!