For

US-LEED, LEED India, IGBC Green Homes, Green Factory Buildings, Green SEZs, and Green Townships

:

www.greentekindika.com
Have you read, "
Mayhem of the Miserables
!
" available @ US$ 1/- with
the Smashwords Summer/Winter promotion, ending July 31, 2011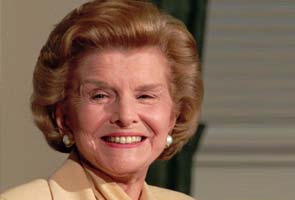 Los Angeles:
Betty Ford said things that first ladies just don't say, even today. And 1970s America loved her for it. According to Mrs. Ford, her young adult children probably had smoked marijuana - and if she were their age, she'd try it, too. She told "60 Minutes" she wouldn't be surprised to learn that her youngest, 18-year-old Susan, was in a sexual relationship (an embarrassed Susan issued a denial).
She mused that living together before marriage might be wise, thought women should be drafted into the military if men were, and spoke up unapologetically for abortion rights, taking a position contrary to the president's. "Having babies is a blessing, not a duty," Mrs. Ford said.
The former first lady, whose triumph over drug and alcohol addiction became a beacon of hope for addicts and the inspiration for her Betty Ford Center in California, died at age 93, family friend Marty Allen said.
Family spokeswoman Barbara Lewandrowski said Betty Ford died on Friday at the Eisenhower Medical Center in Rancho Mirage. Other details of her death were not immediately available.
"She was a wonderful wife and mother; a great friend; and a courageous First Lady," former President George H.W. Bush said in a statement on Friday. "No one confronted life's struggles with more fortitude or honesty, and as a result, we all learned from the challenges she faced."
While her husband served as president, Betty Ford's comments weren't the kind of genteel, innocuous talk expected from a first lady, and a Republican one no less. Her unscripted comments sparked tempests in the press and dismayed President Gerald Ford's advisers, who were trying to soothe the national psyche after Watergate. But to the scandal-scarred, Vietnam-wearied, hippie-rattled nation, Mrs. Ford's openness was refreshing.
Candor worked for Betty Ford, again and again. She would build an enduring legacy by opening up the toughest times of her life as public example.