For LEED Consultancy, Green Building Design, Green Homes, Green Factory Buildings, Green SEZs, Green Townships,
By Michael Martinez, CNN / July 31, 2011 - Updated 1245 GMT (2045 HKT).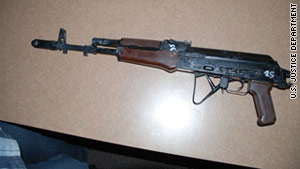 Twenty-six AK-74 rifles and one Dragunov rifle were stolen from the Fort Irwin Army Post in Fort Irwin, California.
Los Angeles (CNN) -- Federal authorities are investigating whether any of the 26 AK-74 assault rifles and a Dragunov rifle stolen from the Fort Irwin Army Post has ended up in Fresno, California, a spokesman said Saturday.
The Bureau of Alcohol, Tobacco, Firearms and Explosives (ATF) and the Federal Bureau of Investigation have offered a $10,000 reward for information leading to the arrest and conviction of individuals behind the July 15 theft of firearms from an army supply warehouse in Fort Irwin, California, an ATF official said.
The AK-74 is an updated version of the more commonly known AK-47. The modified version of the assault rifle was introduced by the Soviet army in the 1970s.
Hope they haven't ended up in the hands of International Terrorists!