www.greentekindika.com
Ed Pilkington and Dominic Rushe in New York, Angelique Chrisafis in Paris / guardian.co.uk / Friday 1 July 2011 12.41 BST.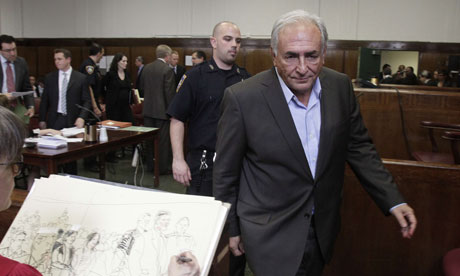 Dominique Strauss-Kahn pictured in court in May. Reports now claim the sex assault case is close to collapse, with French Socialists debating a comeback Photograph: Richard Drew/AFP/Getty Images.
The prosecution case against Dominique Strauss-Kahn, the former head of the International Monetary Fund and French presidential hopeful accused of sexually assaulting a hotel maid, is close to collapse according to sources close to the case.
Based on interviews with two unnamed law enforcement officers, it says "major holes" in the case will be admitted to a federal criminal court in Manhattan as early as Friday.
France's former Socialist prime minister Lionel Jospin described the latest developments as a "thunderbolt," and the news fuelled speculation among Strauss-Kahn's allies that he could eventually return to politics.
At the centre of the potentially dramatic turn in the case, the New York Times reports, is lack of confidence on the prosecution side in the witness's testimony about herself and what she says happened to her in Strauss-Kahn's room at the Sofitel hotel in Manhattan on 14 May. After she alleged that he sexually assaulted her, New York authorities swept into action, arresting Strauss-Kahn as he waited to take off on a flight toEurope.
Separately, the Associated Press reported that prosecutors have raised issues about the woman's credibility, citing an official who is familiar with the case saying the issue was not necessarily about the rape accusation itself, but rather questions surrounding the alleged victim's background that could damage her credibility on the witness stand.
If the total drama arresting Strauss-Kahn based on a unreliable maid's complaint, it is really regrettable that American Justice System is in a really pathetic situation and requires to be overhauled.
If this kind of treatment could be meted out such a internationally famous personality, think of the common people!