www.greentekindika.com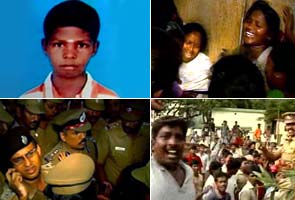 Chennai: A 13-year-old boy was today shot at allegedly by an army jawan as he tried to trespass into a defence area in Chennai.

The incident occurred at the Island Grounds area that houses army residential quarters.

The boy, Dilshan, was rushed to a nearby government hospital. He is currently in the Intensive Care Unit (ICU) and is reported to be in a critical condition.

Meanwhile, angry residents staged a protest against the incident. Dilshan's family alleged that he had been shot in the head when he went to the area to pick some fruit.
Police resorted to lathicharge to disperse the crowd.
A 13-year Old boy could, easily, be shooed away if he trespasses, wily, nily.
And need not be shot at as is done against an armed robber!
The callous Jawan, or whoever it is responsible should be brought to book!

Full Story at,