Download your free copy of "
My First Beer
" Now
with
the Smashwords Summer/Winter promotion, ending July 31, 2011
NDTV Correspondent, Updated: July 17, 2011 12:37 IST.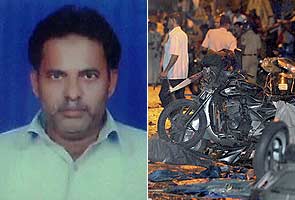 Mumbai: Faiz Usmani, who was questioned by Mumbai police in connection with Wednesday's Mumbai blasts, has died in hospital. He was sent home a day after questioning.

His family alleges that Faiz died after being tortured by the police. But the preliminary medical report has confirmed that Faiz's death was natural and that he died due to hypertension. The report says that his blood pressure levels were very high, adding that no injury marks have been found on Faiz's body.

The police, too, have denied the charge that Faiz was tortured during interrogation. They say he was suffering from hypertension.
01) It may be well that he was not tortured and died a natural death or having being a hypertension patient and also not having taken the medicines for the same for the previous few days and to boot the intense interrogation of the police must have given him the unnaturally high blood pressure levels that would have deteriorated his health condition and resulted in death.
02) But, was there any evidence that he too was involved in terrorist activities like his brother, Afzal Usmani to question him in the first place?
03) Has he disclosed that facts about his health and of not taking medicines for the previous few days to the police at the start of the interrogation?
04) All these aspects to be probed by an independent authority, as just he happens to be the brother of a jailed terrorist doesn't mean he is deprived of all basic civil rights.
05) I do not sound like some of those vociferous socalled human rights activists who do not condemn the terrorist activities of the terror groups including Naxalites but make hue and cry when they are arrested or died in encounters with the police.
06) All the same, I hold that not all relatives of the terrorists need subscribe to the terrorists' activities and in many cases they may not even know the secretive activities of their terrorist-relatives.