Download your free copy of
"
My First Beer
"
Now
with
the Smashwords Summer/Winter promotion, ending July 31, 2011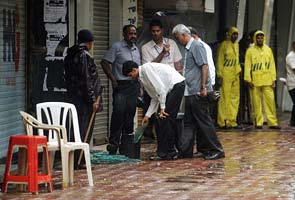 Mumbai: Investigators are trying to determine whether a group of men seen speaking on their phones for over an hour at Opera House in Mumbai could be linked to the city's latest terror attack. 17 people died after three bombs exploded on Wednesday evening at Opera house, Zaveri Bazaar and Dadar. Footage from security cameras at all three locations is being scrutinised.

At Opera House, a hub for diamond traders, four men are seen speaking on their phones for 90 minutes. Investigators say they are trying to establish their identities. However, Maharashtra Chief Minister Prithviraj Chavan cautioned this morning that "diamond traders... or in any trading in Mumbai...so much of it is done on the phone." (Watch Full Interview)

He said it would be "far-fetched" to suppose these men were "providing a running commentary" on the terror attack. Union Home secretary RK Singh said that the focus will be on "identifying men who are not locals."

Mr Singh said the scooter on which a bomb was planted at Zaveri Bazar has been identified, suggesting that its registration details have been deciphered.

What is known so far is that the Improvised Explosive Devices (IEDs) used were powered by a deadly mixture of ammonium nitrate, Tri-Nitro Toluene (TNT) and fuel oil. They were triggered, most likely, by cellphones. Two of the bombs used more than a kilo each of explosives.